HEALTH CUT
PRODUCT & PACKAGING DESIGN (2021)
HEALTH CUT (PRODUCT & PACKAGING DESIGN)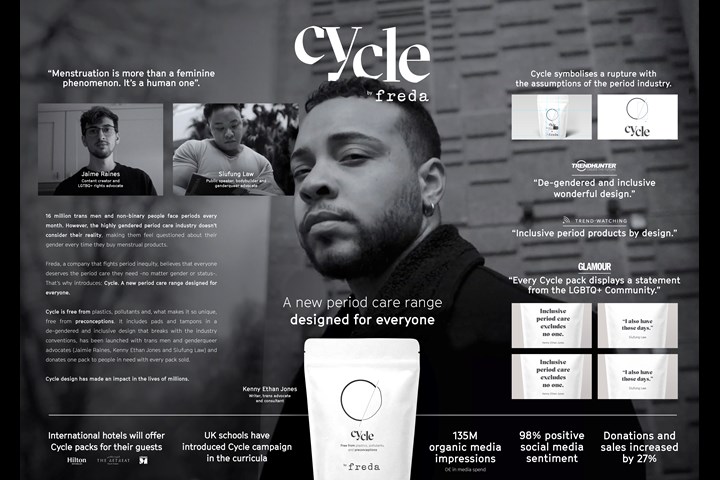 JPG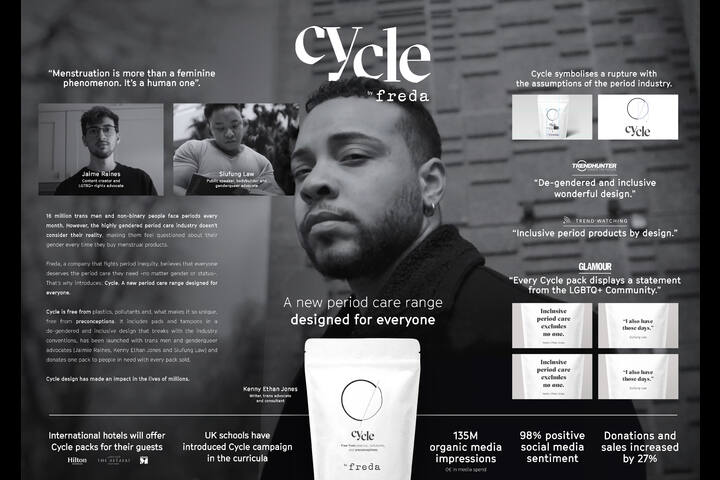 MP4 2m:15s
CYCLE BY FREDA - FREDA
PERIOD CARE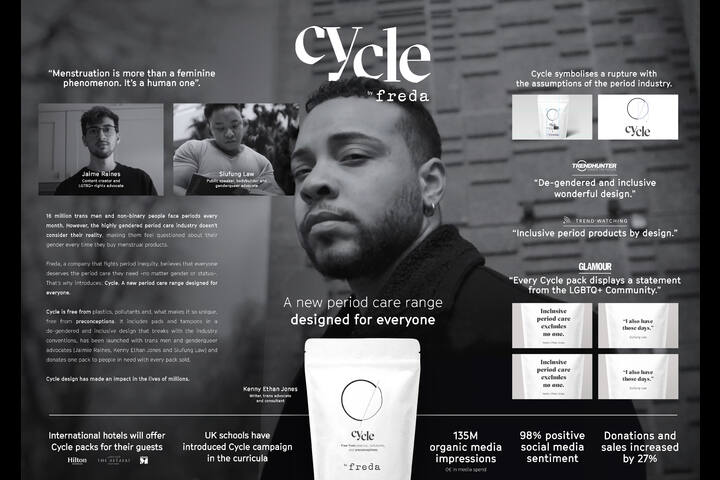 Gold
Title:
CYCLE BY FREDA
Brand:
FREDA
Product/Service:
PERIOD CARE
Client:
FREDA
Entrant Company:
MCCANN ERICKSON MADRID
Agency:
MCCANN ERICKSON MADRID
Production Company:
BLUR / GREAT GUNS
Editing Company:
CRAFT WW MADRID
Sound Company:
CRAFT WW MADRID
Creative Director:
MONICA MORO
Entrant Company Country:
Spain
Release Date:
21/04/2021
Duration:
2022
Individual Credits:
CLIENT TEAM: Isabelle Soskice, Marketing & Strategy Director; Kasey Robinson, Inclusion Lead Afsaneh Parvizi-Wayne, CEO
Individual Credits:
EXECUTIVE CREATIVE DIRECTOR EUROPE: Adrian Botan, CCO McCann Worldgroup
Individual Credits:
CREATIVE TEAM: Mónica Moro, Copywriter; Borja Diego, Art Director, McCann Madrid; Rafael Martínez, Copywriter, McCann Madrid; Xavier Ocaña, Art Director; Catarina Barcala, Art Director; Lucas Crigler, Creative Consultant, McCann NY
Individual Credits:
BUSINESS TEAM: Alexandra von Puttkamer, Business Director, McCann Madrid; Carmen Bistrian, Creative Excellence Manager Europe
Individual Credits:
STRATEGY: Billy LePage, Strategist, McCann NY; Juanma Ramirez, Head of Planning, McCann Madrid; Dr. Rodney Collins – UK & Europe Truth Central Director; Theis Anderson – Truth Central Intern
Individual Credits:
PR AGENCY: Weber Shandwick, London; PR TEAM: Jenny Wakefield, Senior Manager, Weber Shandwick London; Rosanna Sacks, Account Director, Weber Shandwick London
Individual Credits:
CONTRIBUTING AGENCY: McCann Q
Individual Credits:
LEAD EXECUTIVE PRODUCER: Paloma Adrien, CRAFTWW; PRODUCER: Yasmina Soriano, CRAFTWW; Juan Torres, CRAFTWW
Individual Credits:
DIRECTOR: Mar del Corral, Blur
Individual Credits:
DIRECTOR OF PHOTOGRAPHY: Lorena Pagés (UK) and Alix Roussel (Hong Kong)
Individual Credits:
EXECUTIVE PRODUCERS: Mario Forniés (Blur); Laura Gregory (Great Guns)
Individual Credits:
PRODUCERS: Sete Ledo (Blur) and Tim Francis (Great Guns)
Individual Credits:
POST-PRODUCTION COORDINATOR: Sara del Tío
Individual Credits:
EDITOR: Sebastian Antico, Ismail Najjar
Individual Credits:
COLOR GRADING: Gradepunk
Individual Credits:
SOUND DESIGN: Pablo Aset
Additional Credits:
For 16 million people (data source: The Lancet), menstrual pain is much more than physical. Trans men and non-binary people have to face every day a hyperfeminine period care market. Something that makes them feel shame, fear and even question themselves because of having their period.

This case presents the story of how Freda made period care more inclusive. Not just by creating a traditional campaign, but by creating a disruptive new product range designed for everyone: Cycle. Cycle is eco-friendly, minimalist, and most importantly, de-gendered.
Background
Freda, a company that fights period inequity, believes that access to period care is a basic human right. It uses its platform to advocate and campaign for period inclusivity and donates a portion of its profits to related initiatives.

So, when it came to our attention that more than 16 million people of the LGBTQI+ community feel excluded and even unsafe by the hyperfeminine messaging and packaging of period care products that could 'out' them, we knew it was an opportunity to make a powerful impact.

The brief was tremendous: how can we show the world that period inequity is a universal challenge that affects trans and non-binary people, while making Freda's period care experience more inclusive in the process?

CREATIVE IDEA
Menstruation is more than a feminine phenomenon — it's a human one. However, period care industry ignores 16 million trans men and non-binary people who menstruate every month. At Freda we believe period inclusivity is a right, which is why together we created not just a campaign, but a new product: Cycle.

Cycle is a period care range designed for everyone.

Cycle is free from plastics, pollutants and, what makes it so unique, free from preconceptions. With careful consideration about packaging as well as Freda's continued commitment to sustainability and accessibility, Cycle is designed to take all those who menstruate into consideration, regardless of how they identify or their circumstances.

STRATEGY
For the estimated 16 million transgender and non-binary people, truly suitable period products are almost non-existent. The category defaults hyperfeminine imagery and messaging, which makes them feel embarrassed or even unsafe every time they buy period products.

We presented a new research -conducted by YouGov- that revealed that half of adults who have ever menstruated admit having experienced a lack of period inclusivity. A result that drastically increase between trans men and non-binary people.

This research made the media observe Cycle as a product to talk about. The first product designed to be inclusive with gender neutral packaging and universal messaging.

With our ambassadors -transgender and non-binary activists Kenny Ethan Jones, Jamie Raines and Siufung Law- we achieved to open a social conversation about period inequity not just in the LGTBQ+ community, but in the society at large. Opening the eyes of millions of people about this issue.


EXECUTION
With Cycle we crafted a new product range. The packaging is sleek, minimalistic and gender-neutral, eschewing category tropes of feminine messaging and imagery. On the back of each pack is a direct quote from the trans and non-binary community about the need for period inclusivity. To double Cycle's societal impact, for each product sold another is donated to a person in need.

To raise awareness of Cycle, we partnered with transgender and non-binary activists and influencers Kenny Ethan Jones, Jamie Raines and Siufung Law to highlight the shame and fear they've felt when purchasing gendered period products. We produced a documentary-style video series in which they recounted compelling stories of having a period while not being female, and what a product like Cycle means to them and the LGBTQI+ community at large.

LIST OF RESULTS/OUTCOME
The campaign is currently on air, and its social impact grows daily. Since launching Cycle late April, Freda's sales, and donations, have increased 27% while receiving widespread acclaim from the LGBTQI+ community and beyond. The e-commerce website grew 60% with visits and orders from 95 countries including places like Iran and Iraq.

The campaign has been covered by major titles like Glamour UK, Forbes, Metro, Trend Hunter, HypeBae, Yahoo News, Refinery 29, Metro and more***.

Until today, the campaign has achieved a combined organic reach of 135 million. With 0€ media investment. The launch video amassed +150,000 views only on Instagram, with a 98% positive sentiment.

This idea drove organic partnerships with influencers with millions of followers. Three hotel chains -Hilton Seychelles, Retreat Palm Dubai, Citizen M London- are partnering with Freda to offer free Cycle for their guests. And the Fortismere School in London are introducing the study of the Cycle campaign in their curricula. Finally, The English National Opera will be offering 400,000 Cycle products at their location in London Coliseum.